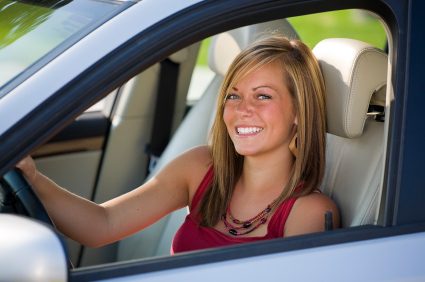 On May 1, 2010, New Jersey will become the first in the nation to have a teen driver decal program thanks to Kyleigh's Law (named in memory of Kyleigh D'Alessio, a Morris County teenager who was tragically killed while a passenger in a car driven by a probationary driver). The law is designed to help prevent senseless teen driver deaths and injuries and mandates the display of red, reflective decals on the front and rear license plates of any vehicle operated by a permit or probationary license holder younger than 21.
To comply with the new changes to the Graduated Driver License (GDL) law, teens and their parents should be aware that they:
may not be on the road between 11:01 pm and 5 am.
may transport only one passenger in the vehicle. (Unless the GDL holder is accompanied by a parent or guardian or transporting his or her dependents.)
may not use a cell phone (hand held or hands-free), ipod, or any other wireless electronic device. (Portable or built-in GPS systems and ipods connected directly to a vehicle's sound system are allowed, but teens should not make adjustments to these devices while driving.)
must ensure that all vehicle occupants are wearing seatbelts.
must display a decal on the front and rear license plate.
may not plea bargain any point carrying offenses.
Decals are available now at all Motor Vehicle Agencies for $4.00 a pair. They can be removed from the license plates when the GDL holder is not behind the wheel.
For more information see the Office of The Attorney General and Department of Law & Public Safety's news release and Frequently Asked Questions about Kyleigh's Law.
For more information about insuring young drivers or to get an automobile quotation, please give us a call at 856-935-0845, or visit our website at www.hdyoung.com.
Henry D Young Inc is a TrustedChoice® Insurance Agency.